At ChuckJoe, we have a passion for doing digital marketing for socially responsible companies, particularly in the natural food and beverage space! For the past 4 years, we've gotten immensely familiar with social good companies by working with them or admiring them from afar. Here's a countdown of our top 10  favorite CSR (corporate social responsibility) companies!
10. Honest Tea
Honest Tea certifications include B Corp, Fair Trade, USDA Organic and Cradle to Cradle. Their mission is inclusive of promoting health and wellness, reducing environmental impact, creating economic opportunity, and democratizing organics. Some noteworthy mentions include spending over $2 million in Fair Trade premiums, donating 1% of their profits to environmental charities, and the commitment to find sustainable packaging alternatives by 2030 from the "World Without Waste" initiative. 
We love that Honest Kids, which contains half the amount of sugar than leading kids drinks, are being offered in more than 53,000 restaurants, including McDonald's!
9. Alter Eco
Alter Eco certifications include B Corp, Fair Trade, USDA Organic, and NON-GMO Project Verified. Their mission includes a full circle of sustainability which includes investing in farmers, regenerating the earth, eliminating waste, and choosing clean ingredients. In their efforts to achieve zero waste, they pioneered compostable packaging called Gone4Good. 
We love their delicious dark chocolates, but especially their non-toxic, non-GMO, and plant-based packaging!
8. IMPERFECT PRODUCE
Imperfect Produce was founded in 2015 with the mission to, "eliminate food waste and build a better food system for everyone." This D2C (direct to consumer) grocery service prevents food waste by saving foods that have cosmetic imperfections, that have been discontinued, that have surplus without buyers, that have package changes, and foods that have been short-coded (expiration dates less than a few months away).
We have loved connecting with Imperfect Produce at Conscious Capitalism of Los Angeles events. We love that they have donated 4.1 million pounds of food, saved 100 million pounds of "imperfect" food, and provided 321,000 reduced cost boxes to low-income families!
7. BEN & JERRY'S
Ben & Jerry's certifications include B Corp, Fair Trade, and Humane-Certified cage-free farms. Their 3-part mission of linked prosperity includes socially responsible practices on ingredient sourcing and purchasing, manufacturing and people, community and giving-back practices. 
We love Ben & Jerry's holistic CSR model so much that we dedicated an entire blog towards their commendable efforts. Read about how they champion social justice and the climate crisis here: "How Ben and Jerry's Incorporates Social Responsibility Through Conscious Capitalism."
6. CLOVER SONOMA
Clover Sonoma certifications include B Corp, American Humane Certified, NON-GMO Certified, USDA Organic, and SQFI (Safe Quality Food Institute). Through the Clover Promise of Excellence, they ensure quality dairy through farming practices that exceed industry regulations! Clover Sonoma encourages their employees to volunteer in local communities with the Power Hours Program. They also giveback by donating 5% of their annual profits to dairy initiatives, educational and value-based youth programs, and local community programs!
We love that their healthy and happy cows are raised on family farms allowing them to graze in open pastures, diet on fresh grass, hay and grains, and are not treated with the growth hormone rBST! 
5. REBBL
Rebbl certifications include B Corp, Fair Trade, and USDA Organic. Their unique purpose is to "nourish, uplift, and delight the world, while serving the NFS (Not For Sale) mission to end human trafficking." Rebbl has helped over 20,000 people out of trafficking and donated over $1 million to NFS projects! It's no wonder why this vegan beverage company made B Corp's list as an honoree for 'Best For The World 2019' and Fast Company's' 2019 World Changing Ideas' for social justice! 
We love that Rebbl directly supports communities that are vulnerable to human trafficking and prevents it from happening in the first place through global sustainable social projects. Check out some of the work that we loved helping them with, here!
4. FAIR TRADE USA
"Fair Trade USA enables sustainable development and community empowerment by cultivating a more equitable global trade model that benefits farmers, workers, fishermen, consumers, industry, and the earth. We achieve our mission by certifying and promoting fair trade products."
The Fair Trade seal makes it easy for conscious consumers to identify goods made responsibly, fairly and sustainably! They have empowered over 950,000 farmers, financially supported $610 million to farming producers, and have certified over 1,250 responsible businesses!
 We love Fair Trade's Community Development Fund! The producers in their farming committees vote on how to spend their additional funds which provide solutions unique to their social, economic, and environmental needs. Check out our blog on Patagonia who's been Fair Trade Certified since 2014!
3. WHOLE FOODS MARKET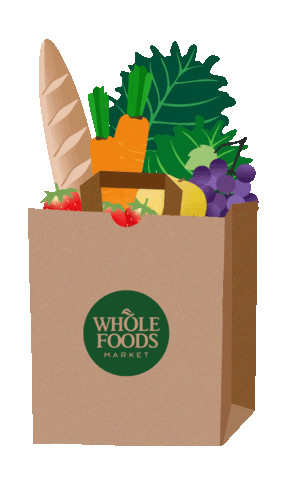 Whole Foods' purpose is to "nourish people and the planet." When it comes to natural and organic products, they definitely set the standards for high quality in the industry! They also have a resolute commitment to sustainable agriculture and seafood. Social responsibility is demonstrated through their diverse foundations to alleviate global poverty, support schools and families to improve children's nutrition, and to improve local underserved communities.
We love their Whole Trade Guarantee which ensures commitment to ethical trade and working conditions; each purchase funds community projects such as schools and health clinics! We also shamelessly love Amazon's free Whole Foods Market delivery service for Prime members.
2. THE WONDERFUL COMPANY
Our runner up is The Wonderful Company! Their mission is to "make the world a better and healthier place through our uncompromising, iconic brands, our commitment to the development and well-being of our employees, and our unique philanthropic efforts in the communities we serve." Founders Lynda and Stewart Resnick have pledged $750 million to Caltech to support and expand sustainability endeavors in order to fight the climate crisis. 
We love their one of a kind giveback program that empowers employees to donate to nonprofits in local communities! Since 2006, Wonderful employees have donated $45 million to 7,800 different non-profits and have volunteered over 25,000 hours! 
1. B CORPORATION
B Corp takes the #1 spot in our top 10 CSR list! One of the biggest reasons we're fond of the previously mentioned B Corp Certified companies is because of their transparency! It's important for conscious consumers and all stakeholders in that matter, to be able to evaluate social, economic, and environmental performance through yearly reports. The B Corp certification process also ensures and verifies the performance of commited conscious companies who truly benefit people and the planet.
On August 15, 2019, 131 CEOs of the Business Roundtable (including CEOs for Walmart, Apple, and Amazon) signed a statement pledging to deliver value to customers, deal fairly and ethically with suppliers, support communities, etc. 
Now what we love most about B Corp is how they clapped back in style 9 days later with a full page letter in The New York Times calling out the leaders from Business Roundtable to choose social responsibility over profit. They end their brilliant ad with, "let's work together to make real change happen" and 33 B Certified CEOs signatures.